Successful stunt action designers David Leitch and Chad Stahelski, Friends of the Brand of the Swiss watchmaker Carl F. Bucherer, are the filmmakers of the high-voltage, action thriller 'John Wick'. The film is packed with breathtaking stunts, thrilling suspense and an A-list cast starring Keanu Reeves, Willem Dafoe and Daniel Bernhardt. The U.S. premiere was on October 13th in New York.
The two Friends of the Brand of Carl F. Bucherer are fixtures on the Hollywood scene. Their stunt and action design company "87eleven" has set standards for years in the Hollywood action-movie genre with passion, creativity, and innovative thinking. With action-packed stunt sequences and epic fight scenes, they have thrilled audiences in blockbusters including 'Sherlock Holmes', 'The Hunger Games', and 'The Bourne Legacy'.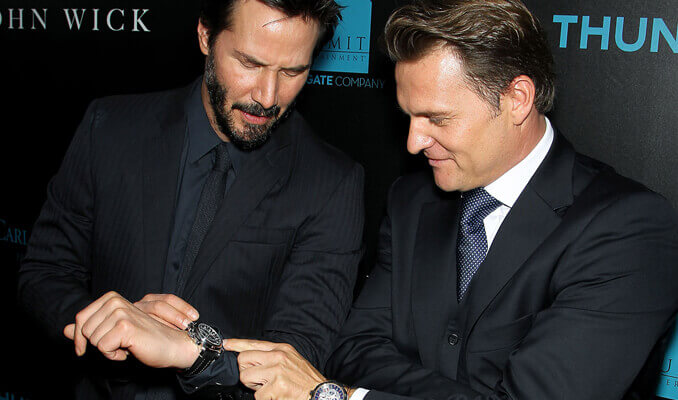 New dimensions in film.
Achieving top performances and consistently overcoming new barriers come naturally to David Leitch and Chad Stahelski. So, it was only logical that these two perfectionists would make the leap from action design to now bring their talents and experience to film direction and production. This passion and expertise is palpable in every single scene of their film. In an emotionally evocative style, they tell the story of John Wick in impeccable fight scenes and compelling images. Wick, played by Keanu Reeves, is a former hitman who comes out of retirement to track down the gangsters that took everything from him, and so begins a relentless, action-packed hunt through the seamy streets of New York. The film hits US theaters on October 24th.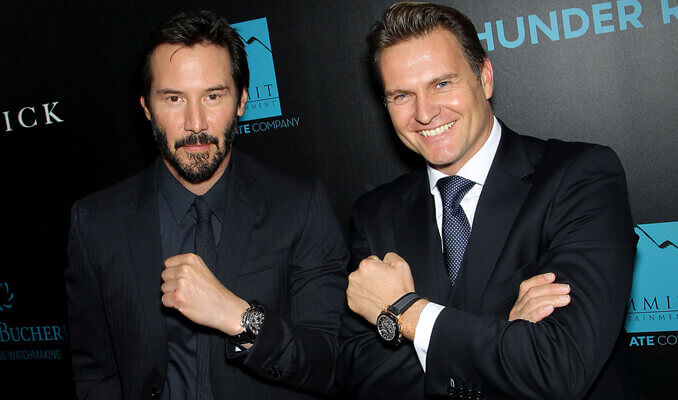 Best of Hollywood.
'John Wick' shines with a star-studded, A-list cast. Besides Keanu Reeves, who is thoroughly convincing as action hero John Wick, the movie also features strong performances by acting legends Willem Dafoe and Daniel Bernhardt. Like the filmmakers, the Swiss actor and watch aficionado Bernhardt is a brand ambassador for Carl F. Bucherer.

Time for action.
Joining the trio of Hollywood stars in the on-screen action of this intense thriller are the timepieces of Carl F. Bucherer. On his wrist, Keanu Reeves sports a Manero AutoDate with a light dial. Willem Dafoe can be seen against the backdrop of the Big Apple wearing a Manero AutoDate in classic black, and thoroughly in keeping with the spirit of his role's character, Daniel Bernhardt dons a striking Patravi ChronoGrade.

Exclusive premiere.
Carl F. Bucherer was the official partner of the movie premiere in New York on October 13th. A host of Hollywood stars and the cast of the film attended, in addition to filmmakers Chad Stahelski and David Leitch.