Beautiful moments are truly worth savoring when they are shared with those who matter the most. Carl F. Bucherer has always celebrated that philosophy with its elegant timepieces. The company's new partner, IGNIV, manifests it in its culinary concept. IGNIV's motto is: "We love to share". Its four teams run exclusive restaurants in Bad Ragaz, St. Moritz, Zurich, and Bangkok, and their guests get to treat themselves to a truly indulgent time.
Shared Values
What do the art of watchmaking and exquisite cuisine have in common? You will find that it is quite a lot. Excellence, passion, innovation, and high precision are the foundation of all genuinely exceptional creations in both Haute Horlogerie and Haute Cuisine. And there is more that unites Carl F. Bucherer and IGNIV: their new partnership focuses on the aspect of shared time and the cosmopolitan spirit that is deeply enshrined in the corporate culture of both brands. Now, this connection is also reflected on the wrists of the four IGNIV teams based in Bad Ragaz, St. Moritz, Zurich, and Bangkok, respectively.
The four head chefs, Silvio Germann, Marcel Skibba, Daniel Zeindlhofer, and David Hartwig, and the four sommeliers, Francesco Benvenuto, Giuseppe Lo Vasco, Ines Triebenbacher, and Marco Franzelin, have become official friends of the brand, and are now part of the CFB family. "The culinary concept of IGNIV gives a whole new meaning to the concept of savoring the moment. As a watch manufacturer that has always been infused with a cosmopolitan spirit, we are especially proud to contribute a piece of watchmaking excellence ʽMade of Lucerne' to the culinary journey of the teams and their restaurant guests," comments Sascha Moeri, CEO of Carl F. Bucherer, on the new partnership. Visitors to the four restaurants will now get to experience the global zeitgeist of Carl F. Bucherer up close.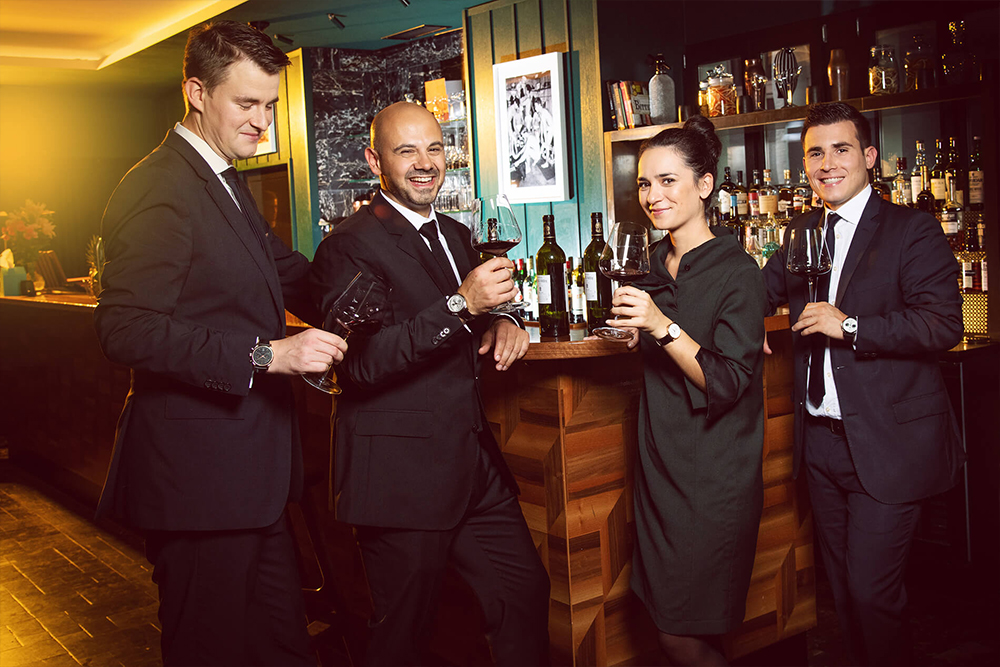 At Home Anywhere in the World, Rooted in the Heart of Switzerland
The Rhaeto-Romanic word igniv translates to "nest." It represents the company's desire for its guests to feel at home in its restaurants, just like a little bird in its nest. On top of outstanding hospitality and the welcoming atmosphere that the Spanish interior designer Patricia Urquiola created specially for IGNIV, the company achieves this with its sharing approach in its four exceptional restaurants. Guests do not need to stick to a traditional sequence of courses. Instead, they are offered a Fine Dining Sharing Experience consisting of up to 30 components served at their table in numerous bowls. All IGNIV restaurants – i.e. at the Grand Resort in Bad Ragaz, Badrutt's Palace in St. Moritz, Marktgasse Hotel in Zurich, and St. Regis in Bangkok – follow the same culinary philosophy. They serve imaginative, award-winning dishes. In a cosmopolitan environment with regional charm, guests get to spend pleasurable hours and soak up the same openness that links the IGNIV family to the Lucerne manufacturer. Both companies are at home in the world, yet firmly rooted in the heart of Switzerland.
Ines Triebenbacher, the sommelier and restaurant manager at IGNIV Zurich, explains: "Just like Carl F. Bucherer's 130 years of watchmaking excellence impresses customers all over the world, we want to provide our guests with an extraordinary experience wherever they visit us, be it in Switzerland or Bangkok."
The teams wear pieces from the Manero Flyback collection, developed specially for the high demands of modern and urban cosmopolites, as well as other watches from the Carl F. Bucherer collection. The elegant chronographs come in a sophisticated 43-millimeter case and feature a flyback function allowing their wearers to reset and restart the timer instantly. Inside, they are powered by a masterfully crafted CFB 1970 automatic movement, whose tireless work can be admired through the sapphire crystal case back – unlike the hustle and bustle of the IGNIV kitchens, where countless hands work behind the scenes to create unforgettable memories for their guests to take home.