Carl F. Bucherer teams up with its new Patravi TravelTec in Black and Rinspeed's latest Concept Car "Σtos".
The brand new watch model by Carl F. Bucherer in their Patravi TravelTec family is installed right in the middle of the dashboard in the latest Rinspeed concept car Σtos. It is their philosophy that binds Carl F. Bucherer and Rinspeed: The everlasting quest for technological innovation, progressive ideas and materials. "We've been successfully cooperating with Rinspeed for many years. The realization of a shared vision relating to aesthetics and technology is crucial to both of us", expresses Sascha Moeri, CEO of Carl F. Bucherer. "Together we create movements in time."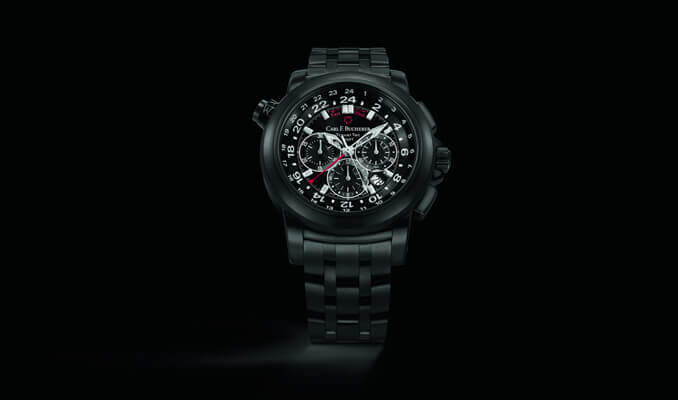 A smart caliber at the core
The new Patravi TravelTec in Black is the ideal timepiece for frequent travelers. The simultaneous display of three time zones in combination with a chronograph is unparalleled. The clearly arranged dial allows for registering the different timezones at a glance. In addition, the patented monopusher makes it possible to swiftly switch between Eastern and Western travel direction. However, at the heart of the matter, the chronometer-certified, in-house caliber CFB 1901.1 beats away. 
A tough yet velvety black shell
The DLC coating of the new black Patravi TravelTec that is applied in a complex, multi-stage process embraces the resilience and lightness of carbon. The wafer-thin, crystalline carbon structure ensures an especially high scratch resistance and shock absorption. Optically, the timepiece convinces with the deep, matt black color that is created by the used percentage of carbon. The design is completed by a black dial on top of which instruments such as the light colored totalizator, indices and scales create a neat look.
An exclusive watchwinder
In the concept car, the Patravi TravelTec is placed in a special display case that swings from right to left in regular intervals, winding the automatic caliber back up. Σtos itself, however, is the great watch winder: When the car is in motion, the energy of the movement also powers the new black Patravi TravelTec. In case of an incoming call, the camera, built sideways into the special display case, swivels to the speaker. The times of the Patravi TravelTec are then displayed digitally in both driver displays, from East to the West.
A watch in utter, satiny matt black for an unforgettable performance: the new black model of the Patravi TravelTec that does not merely dazzle, but truly impresses.