The Swiss innovation lab Rinspeed exhibited its new concept car, the Budii, at the 2015 Geneva Motor Show. The car is designed to make driverless travel even more comfortable. Carl F. Bucherer is supporting the innovative project run by Friend of the Brand Frank M. Rinderknecht with an exclusive, next-generation watch winder.
Frank M. Rinderknecht and his team have been realizing futuristic concepts for more than 35 years. The Swiss company is changing the mobile world with visionary mobility concepts, amphibious vehicles and its use of sustainable materials and drive systems. Just last year, Rinspeed grabbed the spotlight with its XchangE, a concept car designed to make driverless travel possible. Now the innovation lab has gone one step further with the Budii; this new car again has an autopilot, yet also adapts to the driver's habits and preferences. The Geneva Motor Show is the first time that the Budii will be exhibited in public.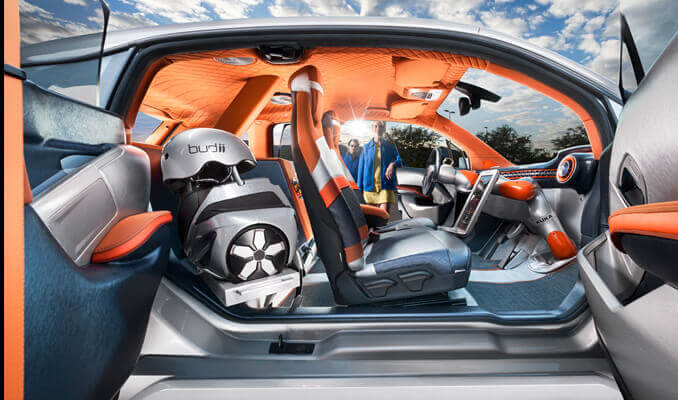 The learning car
The transurban concept car is equipped with innovative hardware and software, which the Budii uses to collect, process and store information from its environment.
The car relies on more than its own experience, however; it also observes the behavior of others on the road along its route and takes it into account in the future. For one thing, this ensures more safety in street traffic, as the forward-looking driving behavior of the Budii can avoid accidents. For another, following the Rinspeed tradition, the concept revolves around humans and their needs. The autopilot can handle unpleasant trips in complex city traffic, whereas the driver can take the wheel on fun weekend trips.

Always on time
The steering wheel is mounted on a sensitive robotic arm and can be positioned in the middle when needed. The driver will appreciate another technological highlight. The MANERO PowerReserve built by Carl F. Bucherer is mounted on the steering wheel. This sophisticated, highly functional clock combines an integrated power reserve display with a precise CFB A1011 manufacturing movement, making it the perfect match for this innovative concept car. The status of the power reserve is monitored by video to ensure that the automatic clock never runs out of energy. When the display slips down into the red, the robotic arm of the steering wheel is engaged to function as a watch winder to recharge the power reserve. By helping to ensure that the driver is always on time, Budii proves to be a real "friend on wheels".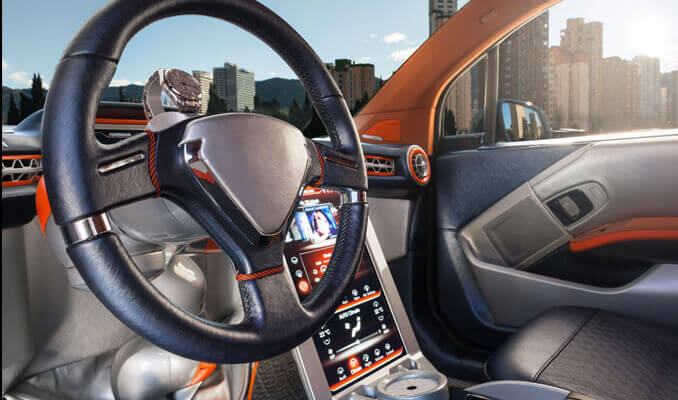 Partnership with a future
These concept cars are the product of a creative spirit unhindered by typical conventions that prefers to blaze its own ambitious trails. This is a philosophy shared by Rinspeed and Carl Friedrich Bucherer, the founder of the renowned watch brand from Lucerne. Outstanding technologies, premium materials and enormous passion for their own products are what unite the two innovative companies. This made it easy for Carl F. Bucherer to decide in favor of supporting the new Budii project by Rinspeed.