On Saturday, February 8, 2020, guests gathered in the winter sports paradise of St. Moritz in aid of a good cause: a charity auction to generate funds that will help the Swiss Red Cross continue its vital work. For Carl F. Bucherer, partnering with this historic organization was a personal mission. The Lucerne-based watch manufacturer donated two exceptional timepieces to the auction, crowning the exquisite offer with a unique Hollywood experience. An incredible auction lot that went on to achieve the evening's highest individual bid. The Swiss Red Cross will use the auction's proceeds to fund numerous water and hygiene projects worldwide.
An Evening with an Important Mission
Held at the stunning Badrutt's Palace, the gala focused on the Swiss Red Cross' various water and hygiene projects. More than 650 million people worldwide still have no regular access to clean drinking water. The organization will use the total CHF 1.1 million donated that evening to improve the quality of life of many of those affected. In doing so, the Swiss Red Cross will be making a decisive contribution to international sustainability goals, an issue that is very close to Carl F. Bucherer's heart: "As a watch manufacturer steeped in tradition, we are aware of how precious every moment is and the responsibility that we bear towards future generations," commented Sascha Moeri, CEO of Carl F. Bucherer. "As part of our Treasuring Values corporate philosophy, we are therefore committed to long-term partnerships such as with the Swiss Red Cross, to innovative projects and, last but not least, to exceptional timepieces that are exemplars of sustainability."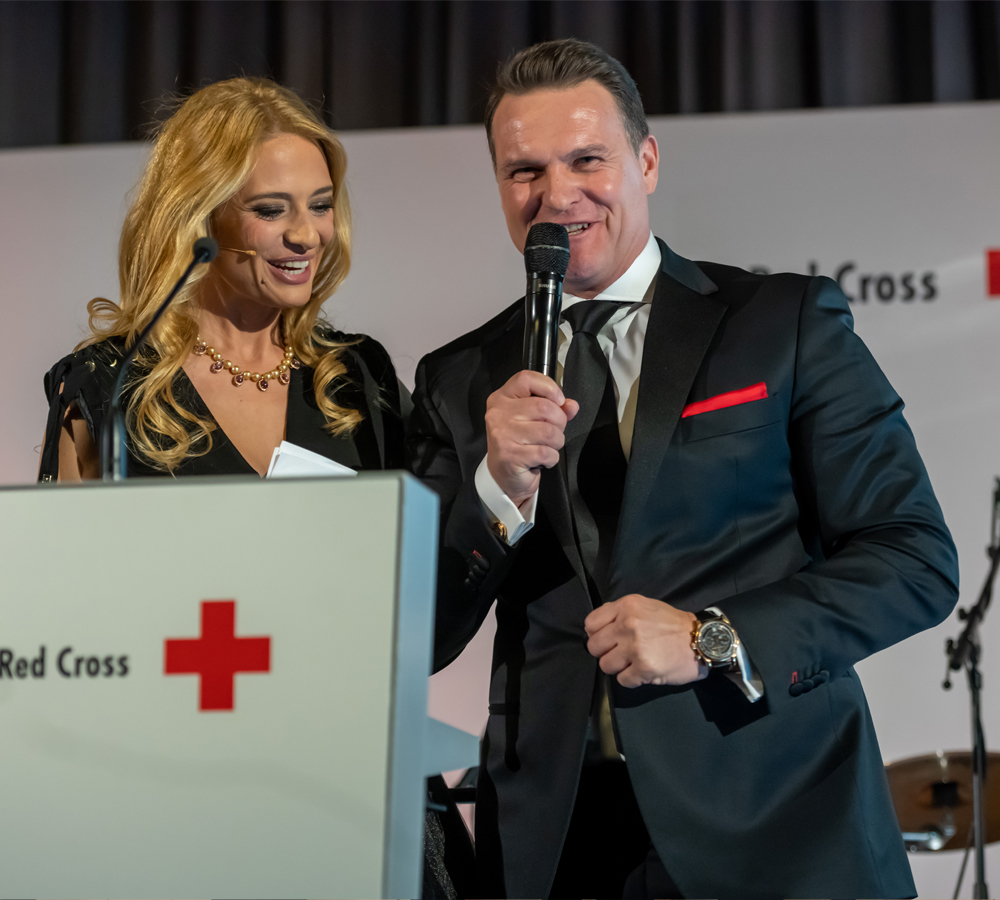 A One-of-a-Kind Auction Lot
Carl F. Bucherer made a bold statement during the evening in St. Moritz by pairing watchmaking craftsmanship with a one-off experience. The highest bidder, who wishes to remain anonymous, can look forward to enjoying the timelessly elegant Manero Flyback in rose gold and the feminine Manero Monograph with 50 sparkling diamonds. Two worthy champions of Swiss watchmaking.
In addition to these two exquisite timepieces, the auction lot also included an exclusive Hollywood experience together with John Wick director Chad Stahelski and famous stuntman and actor Daniel Bernhardt. Both Hollywood stars, along with Sascha Moeri, personally encouraged guests in St. Moritz to bid for this particular auction lot. And their efforts paid off: The lot was awarded to the highest bidder, who offered CHF 80,000, the highest individual bid on this truly special evening.