Bucherer and blue. This combination of Swiss watchmaking excellence and the beauty and symbolism of this colour has a long-standing tradition dating back to 1888. A tradition that is especially prevalent in the unique collection of blue timepieces exclusively available at Bucherer under the name Bucherer BLUE, which have been created in collaboration with the world's most renowned watchmakers since 2016. The latest model in this exquisite series is now being released on 7 October 2019 and is inspired by the mystic beauty of the heavens: the Manero AutoDate Bucherer BLUE by Carl F. Bucherer
A heavenly composition of white mother-of-pearl and royal-blue sapphires
This watch combines mechanical perfection with exceptional elegance. Twelve royal-blue sapphires shimmering on the white mother-of-pearl dial pay artistic homage to ancient mythology, according to which the heavens are a giant reflection of these gemstones. Matt blue hour and minute hands and a midnight-blue satin strap harmoniously incorporate the intense shade of blue. Sixty-two brilliant diamonds sparkle in keeping with the stainless-steel bezel like stars on the firmament. This masterfully orchestrated composition turns each glance at the Manero AutoDate Bucherer BLUE by Carl F. Bucherer into a magical moment. In terms of technology, the watch boasts a finely crafted automatic movement with a power reserve of 42 hours. Ensconced in a stainless-steel case featuring a domed sapphire glass with anti-reflective coating on both sides, it can be admired through the transparent sapphire-glass case back.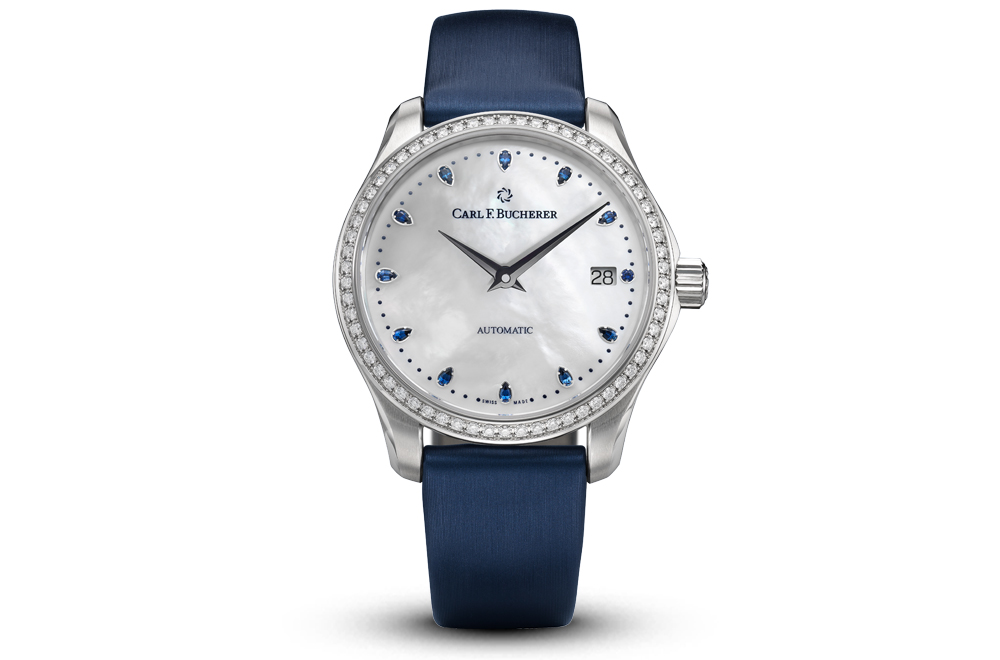 An elegant design with charming details
Carl F. Bucherer is proud to be able to offer a ladies' watch in the form of the Manero AutoDate Bucherer BLUE that perfectly complements its 2016 predecessor, the Manero Peripheral BLUE EDITIONS. Exquisite materials and a finely balanced, feminine design impart a real jewellery character to this highly precise specimen of Swiss watchmaking excellence, while all eyes are drawn to its "blue hours": the 12 teardrop-shaped sapphire indices appear like sparks on the firmament, creating an ode to graceful and timeless elegance.
A creative collaboration – "Made of Lucerne"
Equally as exquisite as the universe of Bucherer BLUE: the new version of the Manero AutoDate is the result of an expert collaboration of creative minds at Carl F. Bucherer and Bucherer Fine Jewellery. A collaboration that has been captivating the world for over 130 years with exceptional models "Made of Lucerne". "The inspiring fusion of Bucherer design teams has led to the creation of an exceptionally beautiful watch that harmoniously reflects the entire expertise for which Bucherer has been renowned since 1888: the highest level of watchmaking excellence and exquisite, artistic jewellery," says Sascha Moeri, CEO of Carl F. Bucherer.
Discover more about this timepiece