"LEGENDS for TALENTS" is the name of the successful charity tournament to benefit the young soccer stars of FC Luzern that brought together national sports celebrities and 100 golfers at the beautiful Engelberg golf resort.
Engelberg, September 4, 2014. Carl F. Bucherer is a proud partner of the first-ever Golf Trophy event sponsored by FC Luzern. The "LEGENDS for TALENTS" charity tournament grew out of a creative concept and is dedicated to promoting up-and-coming young athletes, with proceeds donated to the Soccer Academy of Central Switzerland (Fussballakademie Zentralschweiz) foundation.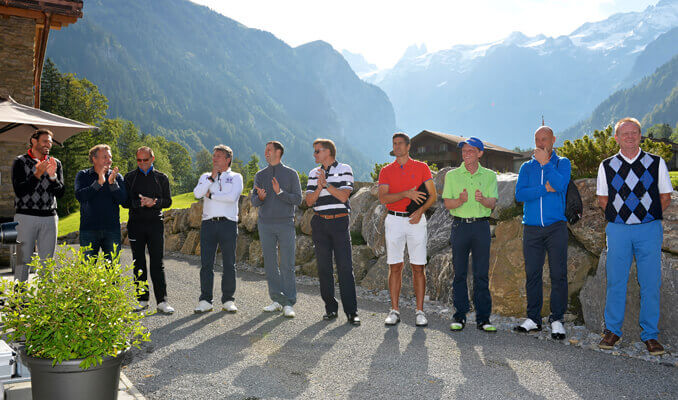 One unique aspect of the tournament is that each group of four golfers was led by a Swiss celebrity athlete acting as the leader. Who wouldn't want to play a round of golf with Ottmar Hitzfeld, Hakan Yakin, Bruno Kernen, Urs Lehmann, Gian Gilli, Renato Tosio or Erich Schärer? Under perfect golfing skies, players vied for the overall victory and wins in various special categories. Despite the seriousness of the competition, the mood on the green was extremely relaxed. A Bavarian "welcome back" buffet in the afternoon was followed first by an apéro and then by a varied evening program including an awards ceremony. The 125 guests were treated to a dinner created by three Gault Millau-listed chefs from the region. The Patravi ChronoGrade, which was awarded to a lucky winner, received a very warm reception. At the close of the evening, tournament founder Erich Fust proudly presented a check for 50,000 Swiss francs to the Soccer Academy Foundation. This was accepted on behalf of the foundation by the president of its board of directors, Walter Stierli.Carl F. Bucherer will continue to work together with FC Luzern on behalf of the country's young and talented soccer players and has pledged to support the charity event again in 2015.