Anticipation is growing, the clock is ticking: In a few weeks, the European Champion title will be in the limelight in France, and all eyes are on the sport. Carl F. Bucherer is proud to fulfill the part of partner and Official Timekeeper for the Swiss National Football Teams, starting with 1st July 2016, for the duration of four years.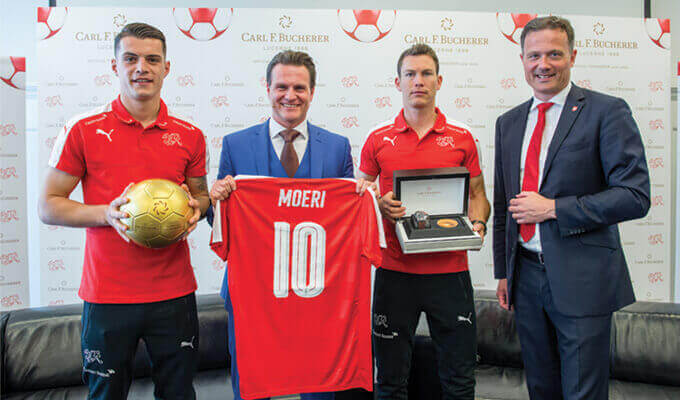 The cooperation with the Swiss Football Association (SFV) originates from the deep connection the Swiss watch manufacturer feels to its own roots. Carl F. Bucherer was founded in 1888 in Lucerne, the heart of Switzerland. Until this very day, the Swiss watch brand "Made of Lucerne" is coined and inspired by the cosmopolitan spirit of the city and its unique adjacent environment. As is true for football, everything in watchmaking revolves around time and interaction. The individual components in a movement need to intertwine perfectly to come through as a whole. "With the renowned manufacture brand Carl F. Bucherer, we have a partner who understands the importance of every single second on the football field. We are looking forward to working together in the years ahead", states Alex Miescher, secretary general of the SFV. The aforementioned insight shows in the campaign visual that accompanies the cooperation, spreading the message: "A single second can change history". Every shot at the goal, every move during the 90 minutes of a football game can make a crucial difference.
The SFV picked a timepiece by Carl F. Bucherer for its national players of which the Swiss watch brand developed a special edition. The Patravi ScubaTec SFV is an exclusive timepiece that reflects and supports the athletic prowess and the persistence of the team. This variation of the iconic sports watch stands out by incorporating the red color of the Switzerland national football team, using red accents that contrast with the black design. The logo of the association is resplendent on the rotating bezel. This special edition is now available for all fans. "The passion and commitment of our national players for their sport was the source of our inspiration for this particular Patravi ScubaTec model. This timepiece expresses determination, strength, stamina and precision – motivation that is supposed to assist the players every second on any playing field", says Sascha Moeri, CEO at Carl F. Bucherer.
As the Official Timekeeper, Carl F. Bucherer will keep their fingers crossed on-site when the Swiss national players settle in their team quarters in Montpellier – escorted by the Patravi ScubaTec SFV on their wrists.