With the Pathos Diva model, Carl F. Bucherer has created a timepiece that uniquely captures the charisma of femininity in all its elegant radiance. Precious materials like rose gold and diamonds combine with a unique design to lend the Pathos Diva a very special aura – and a hint of the divine.
It is the divine that dwells in each woman and gives her a shimmering grace. Pathos Diva, which radiates grace and elegance, does not merely take its name from this divinity. It embodies it, manifesting the uniqueness of every woman in a perfect form.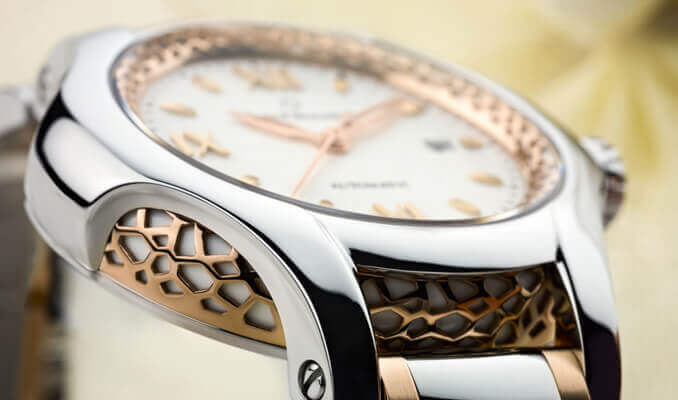 A sparkling homage.
With its Pathos collection, Carl F. Bucherer has created a new line that causes a sensation with its brilliant concept and individual design. One of the timepiece's precious features is the aureole, a gleaming circle that creates a fascinating and sublime interplay of reflected light across the watch case. The aureole is made of 18-karat rose gold, a magnificent foreground which creates an irresistable iridescent effect. The white face features a delicately traced decoration, its multifaceted charisma constantly evolving depending on the light. The rose gold-colored index marks, Roman numerals, and circle of brilliant diamonds add the finishing touches to the striking face. Sparkling and shimmering, the diamonds transform the bezel into the perfect frame for the gleaming face of the Pathos Diva, paying homage to the wearer's unique aura.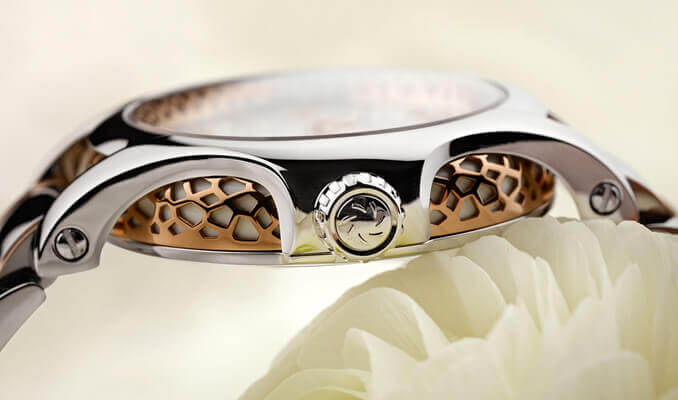 Fascinating ensemble.
The perfection of the Pathos Diva can also be seen in the overall composition. The duotone coloring of the case, comprising rose gold and stainless steel, is echoed in the design of the bracelet. Even the crown – reprising the design of the aureole – displays a delicate grid structure. A timepiece whose beauty is fascinatingly unique, like a divine spark, the Pathos Diva flawlessly underscores the perfection of the wearer.