Visitors to Zurich Airport can experience the rich history of luxury watch manufacturer Carl F. Bucherer at a special exhibition opposite the Bucherer boutique until October 25th, 2019. In addition to rare historic models and groundbreaking milestones from over 130 years of "Made of Lucerne" watchmaking heritage, passengers in Airside Center 1 can also discover the highlights of the new collection and recently launched Heritage collection timepieces.

Click here to find our booth on the map
Watch manufacturer Carl F. Bucherer traces its history back to the year 1888. At Zurich Airport's Airside Center 1, visitors can now take a journey through time and experience over 130 years of watchmaking history at a special exhibition featuring models from the current collection and rare historic timepieces. Display cases, videos, and information boards describe the milestones that marked the company's journey to its current status as an internationally renowned luxury watch manufacturer, including the opening of Carl-Friedrich Bucherer's first boutique in Lucerne in 1888, a host of exceptional timepieces and innovative complications, the passing of the baton to Carl Friedrich Bucherer's sons all the way to the current time.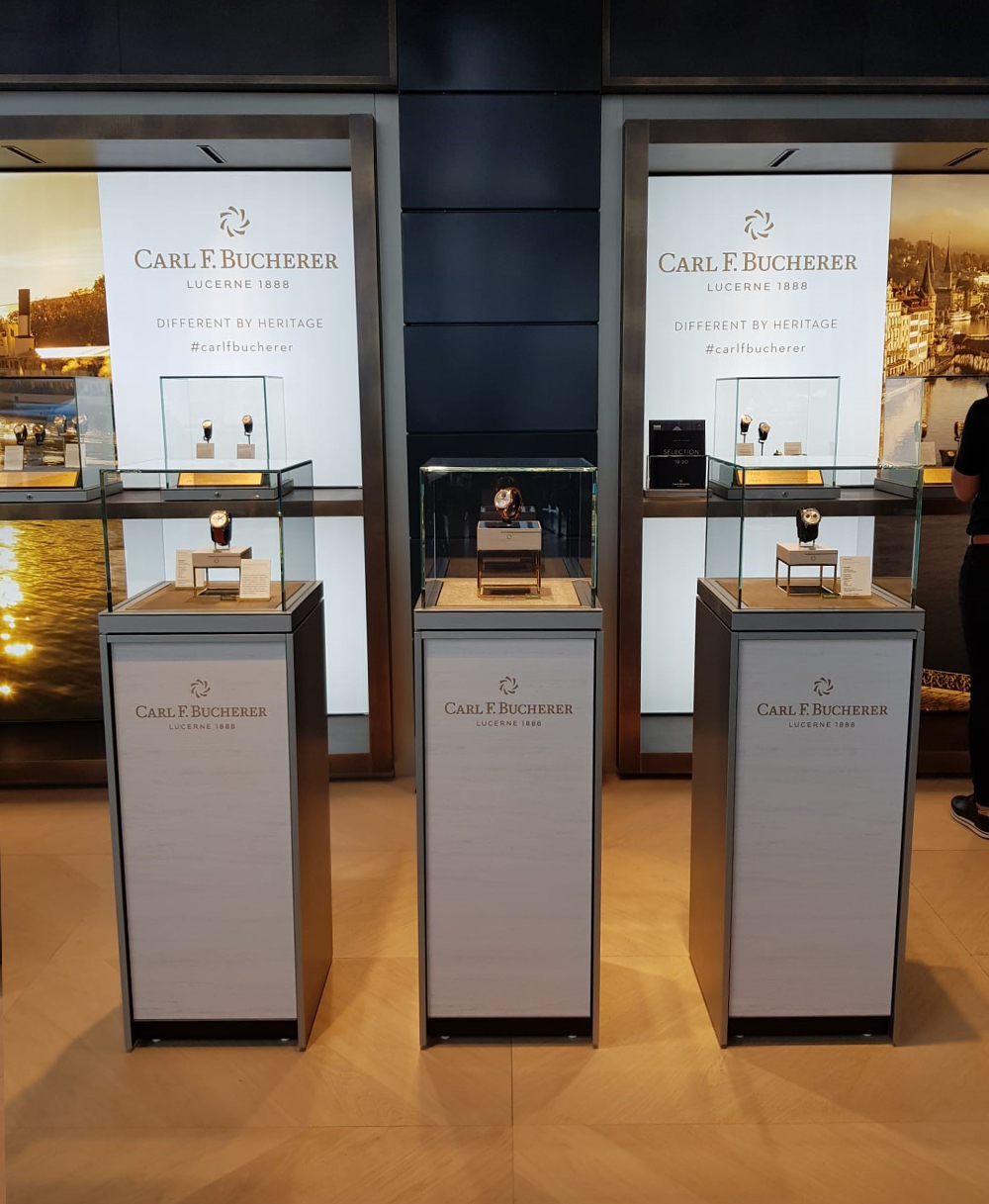 However, the highlight of the exhibition are the three models from the recently launched Heritage collection, which contains only limited-edition timepieces that pay tribute to the history and roots of Carl F. Bucherer. With its patented floating tourbillon and white gold bridge featuring a lavish engraving of the Lucerne Chapel Bridge, the Heritage Tourbillon DoublePeripheral, the first model from the new line, embodies innovation and a love of tradition in equal parts. And this watchmaking masterpiece is among the finest of company: the Heritage BiCompax Annual, available in two versions and inspired by a historic model from the Lucerne manufacturer's archives. This timepiece, limited to 888 watches, combines a cool vintage design with chronograph functionality and an annual calendar and thus, just like the Heritage Tourbillon DoublePeripheral, creates a link between the company's rich heritage and its golden future.
The special exhibition is open to visitors until October 25th, 2019.