In conjunction with Gault Millau Switzerland, the venerable Lucerne-based brand Carl F. Bucherer has named the Park Hotel Vitznau "Hotel of the Year." It combines historical grandeur with a visionary ideal.
This year, Carl F. Bucherer will be a sponsoring partner of the prestigious Gault Millau Award for the eighth time. As an important institution in the hospitality industry, the Gault Millau Award stands for excellence down to the very last detail. The coveted "Hotel of the Year" title was awarded this year to the luxurious Park Hotel Vitznau, which won over the jury with its captivating ambiance and tasteful elegance.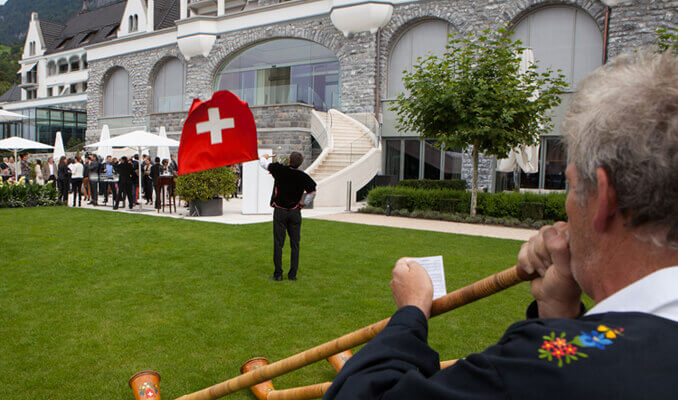 Modern exclusivity meets nostalgic charm.
Located on the scenic shores of Lake Lucerne, the historic Park Hotel Vitznau now appears in renewed splendor following extensive renovations. The construction work was carried out in line with an exacting philosophy of "preserving the past, shaping the future," meaning that guests can now expect the utmost in modern comfort within the stunning century-old, history laden walls. The skillful combination of avant-garde interior and awe-inspiring backdrop creates an extraordinary atmosphere and makes this an exceptional address.

Inspiration for the senses.
The uniquely winning architecture of the Park Hotel Vitznau is coupled with a visionary concept for pampering the senses. Thanks to three thematic worlds - Wine & Dine, Art & Culture, and Health & Wealth - the link between tradition and innovation is palpably pervasive throughout the hotel. With stunning views of the lake, guests of the hotel's "focus" restaurant enjoy culinary delicacies from Michelin starred chef Nenad Mlinarevic, who combines technically consummate cuisine with progressive creativity. The hotel's exquisite corridors are designed as inspiring thematic galleries dedicated to the various projects the luxury-class auberge supports, presenting interesting insights into the history of wine, theater, and fine dining. Unadulterated relaxation awaits guests in the exclusive spa area, whose clean lines, shapes, and colors provide a harmonious and exciting contrast to the 111-year-old architecture. This intriguing combination of luxury and history is deserving of the title of "Gault Millau Hotel of the Year 2014" in every regard.

Award-winning excellence.
Founded in 1969 in France and famed for its detailed reviews, Gault Millau is among the most influential restaurant guides on the international gourmet scene. Superlative quality, genuine passion, and exceptional design: These values are the heart of Gault Millau. And so it is with great pleasure that Swiss watchmaker Carl F. Bucherer joins Gault Millau Switzerland in honoring exclusive hotels – like the Park Hotel Vitznau. The "Hotel of the Year 2014" award was officially conferred upon the luxury hotel on August 25, by Sascha Moeri, CEO of Carl F. Bucherer, and Urs Heller, editor-in-chief of Gault Millau Switzerland. Also in attendance at the lively awards ceremony were Michelin starred chef Sandro Steingruber and Swiss singer Nubya. The two friends of the Carl F. Bucherer brand lent extra flair to the festive evening at the Park Hotel Vitznau.