CARL F. BUCHERER AND GAULT MILLAU SELECT THE GRAND RESORT BAD RAGAZ AS HOTEL OF THE YEAR 2021
All good things come in threes. Lucerne watchmaker Carl F. Bucherer and renowned restaurant guide GaultMillau have awarded the sought-after Hotel of the Year title for the third time to the Grand Resort Bad Ragaz after their success in 1999 and 2010. Uwe Liebminger, Chief Marketing Officer at Carl F. Bucherer, and GaultMillau editor-in-chief Urs Heller handed over the coveted award to the resort's team.
Hotel of the Year 2021: Bad Ragaz's Recipe for Success
Just like Carl F. Bucherer, the Grand Resort Bad Ragaz is proud of its rich history and the pioneering spirit that has helped it stand out since the beginning. Only three years after it was founded in 1869, the hotel – which celebrated its 150th anniversary in 2019 – opened Europe's first indoor thermal baths, and continues to set new standards today.

Guests at the resort have a choice of seven restaurants, all offering the finest culinary experiences, from Alpine cuisine to sushi and the Memories show kitchen. Top chefs ensure that all guests have a wonderful meal, including Silvio Germann, chef de cuisine at the IGNIV restaurant, which has been awarded 18 GaultMillau points.

Interior designer Claudio Carbone has created stunning surroundings that combine elegance and stylish comfort. All three hotels boast a large, light lobby, an eye-catching Swarovski chandelier, new restaurants and bars, as well as new rooms and suites.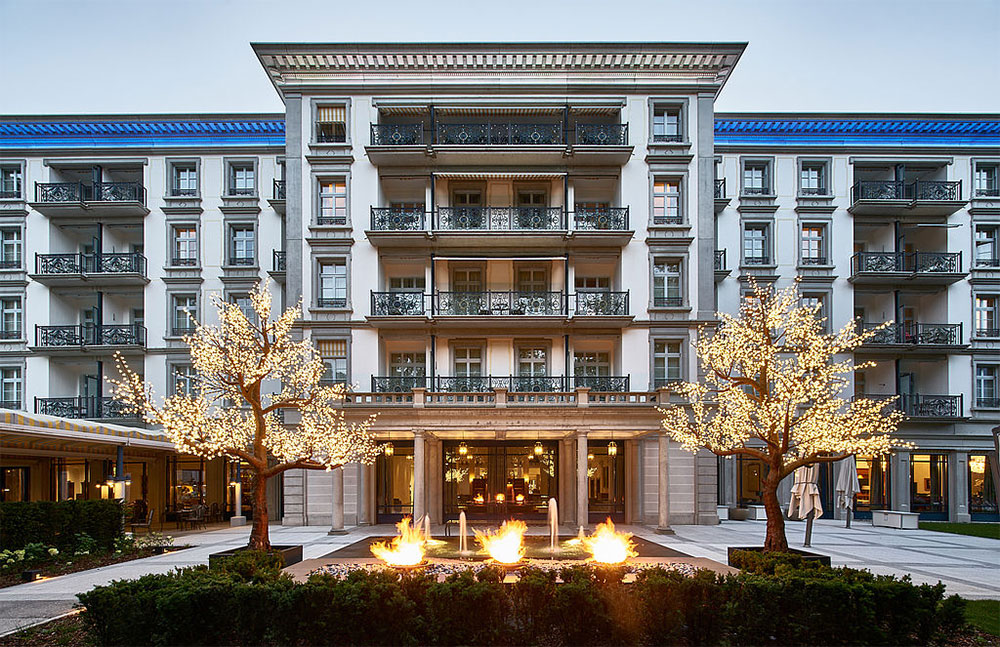 Shared Values
Passion and the highest levels of precision are essential to producing exquisite creations, both in watchmaking and haute cuisine. Carl F. Bucherer celebrates these shared values in its most recent partnership with the four exclusive IGNIV restaurants – one of which is located at the Grand Resort Bad Ragaz. Chef de cuisine Silvio Germann has been part of the CFB family since July 2020, together with the other IGNIV head chefs and sommeliers. He is proud to wear his Manero Flyback – a timepiece that reflects the exceptional qualities of a cosmopolitan spirit, open-mindedness, and excellence that unite Carl F. Bucherer, IGNIV, and GaultMillau.
Uwe Liebminger, Chief Marketing Officer, emphasizes the shared values of Carl F. Bucherer and the Grand Resort Bad Ragaz: "The Grand Resort Bad Ragaz and Carl F. Bucherer have much in common.
We share creativity, passion, and the same sense of perfection. As international brands with strong ties to our roots, we are equally at home in Switzerland and anywhere in the world, with our customers' satisfaction always at the heart of everything we do. On behalf of everyone in the CFB family, I would like to congratulate the whole team here in Bad Ragaz on an incredible achievement! This three-time award is more than deserved!" He went on to present the CEO of the resort, Patrick Vogler, and General Manager Marco Zanolari with a commemorative Carl F. Bucherer timepiece each, engraved with "Hotel of the Year 2021."