Carl F. Bucherer presents a new highlight in the extraordinary Pathos collection: Pure rose gold lends a warm elegance to a delicate ladies' watch.
Multifaceted and individual – the Carl F. Bucherer Pathos collection is a tribute to the fascinating character of every woman. The Pathos model in pure rose gold is the latest creation by the traditional Lucerne watchmaker: a refined and captivating timepiece that unites glamor with grandeur.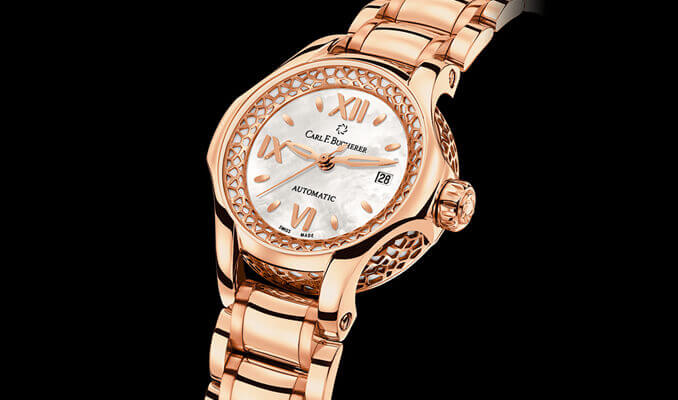 Charismatic design
The Pathos collection successfully launched in 2014, features a uniquely exciting design. Now comes the latest addition to the impressive Carl F. Bucherer Pathos timepiece collection: the Pathos Rosegold, made entirely of warm and glamorous 18-karat rose gold. The precious metal accentuates the distinctive aureole design, which is the mark of the Pathos collection. Artfully embedded in the case, the filigree halo of the aureole reflects the light in countless fascinating facets.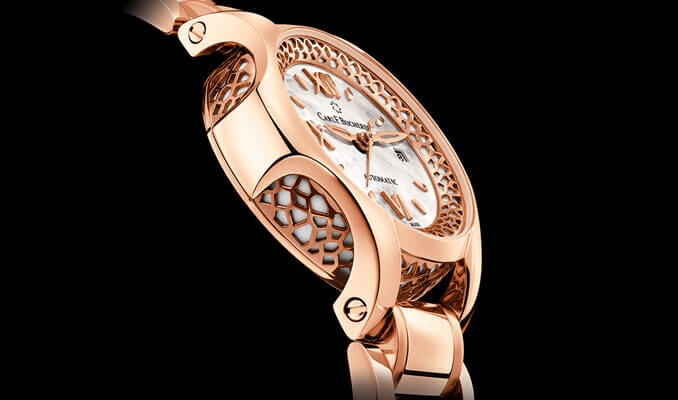 Versatile femininity
The Pathos collection is as multi-faceted and unique as every individual woman. The new rose gold models are delightfully diverse; the Pathos aureole comes in two different versions, with a wave design or filigree grid. The exquisite dial excites in precious, scintillating mother of pearl or with delicate ornamentation on pure white. The case shines in clear rose gold or with sparkling diamonds.
Made of finely crafted pure rose gold elements, the Pathos bracelet harmoniously rounds off the composition of the timepiece.
The Swiss watchmaker Carl F. Bucherer presents a new dimension of passion with the Pathos Rosegold.

For the individualistic woman. One eclectic collection. Pathos.